From The Inspector Files BLOG
Please take action on this important Recall !!  
Kiddie has issued a recall of their Smoke Alarm Models PI2010 and PI9010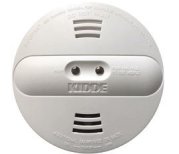 THE DEFECT: It is estimated that about half a million units had a yellow cap left on during the manufacturing process which covers one of the two smoke sensors and compromises the smoke alarm's ability to detect smoke, posing a risk of consumers not being alerted to a fire in their home.
Affected units have the oblong 'pill shaped' center shown here. You should check any Kiddie Smoke Alarms that look like this to see if it is included in the recall.
CLICK THIS LINK FOR STEPS TO FOLLOW IN CHECKING YOUR SMOKE ALARMS:
NOTE:  Smoke Alarms and CO Detectors have a service life of UP TO 10 YEARS.  If your units are more than 10 years old, the entire unit needs to be replaced.  
Read Full Post »
/